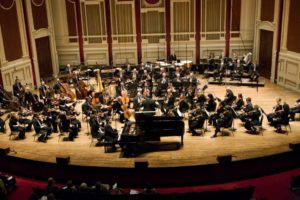 The journey from the concert hall to a commercial recording is not one which many new musical works are granted the opportunity to take. In the case of my own Concerto for Piano and Orchestra: In Truth, that journey began with a simple question posed by two devoted patrons of the arts: "What will it take to get this piece recorded?"
Following the Knoxville Symphony Orchestra's presentation of the piano concerto's world premiere in 2013, the concert's sponsors, Tom and Evelyn Shaw, approached me to ask what they could do in order to make a recording a reality. I immediately thought of my long-term association as a staff conductor and guest conductor with the Pittsburgh Symphony Orchestra (since 1998) so I contacted Robert Moir (then the PSO's Vice President for Artistic Planning) about the possibility of creating an album that featured not only my piano concerto but also my Concerto for Oboe and Orchestra: The Clearing (a PSO-commissioned work) and Three Pieces for Cello and Orchestra.
The project was given a green light and, as a result, through the wonderful and generous graces of the Shaws, the incredible musicians and stalwart administrative staff of the Pittsburgh Symphony Orchestra and three brilliant soloists, IN TRUTH has now taken that elusive journey from the ephemeral stage to recorded permanence.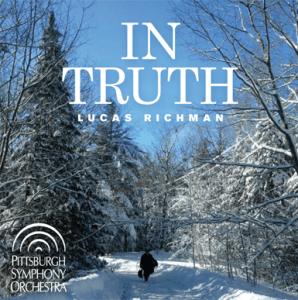 Speaking of journeys, I have been asked to explain the choice of the photograph used on the cover of IN TRUTH. On February 1, 2015, Bangor Symphony Orchestra Executive Director, Brian Hinrichs, was sitting in his car at the top of my driveway in Bangor, ME, ready to take me to rehearsal as I could not get my car out of the snow: it being our first winter there, and all, I still had not yet put snow tires on my car.  As he watched me lumber through the snow, encumbered by the various layers of winter clothing, my valise and garment bag, he snapped a photo that, in and of itself, carries the weight of the subject's many burdens.
In the process of choosing the cover photo for the CD, "IN TRUTH Lucas Richman," this photo stood out to me as strikingly representative of the life's journey on which I have been traveling for my first half-century: beauty, goodness and wonder surround the subject but the road is not easy and the burdens are heavy. The music on the album reflects on various aspects of that journey with the solitary figure being required to interact with numerous people and spiritual forces along the way.