"Symphony: This Will Be Our Reply" – CANCELED
March 27, 2020 at 8:00 pm
EDT
Dayton Philharmonic Orchestra
Neal Gittleman, conductor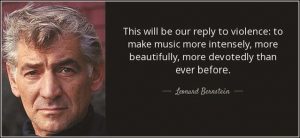 LUCAS RICHMAN Symphony: This Will Be Our Reply
STRAUSS An Alpine Symphony
To say that this concert will be powerful is an understatement. There is the emotional power of Symphony: This Will Be Our Reply and the sheer WOW factor of Strauss's massive tone poem, An Alpine Symphony.
After President John F. Kennedy was assassinated, Leonard Bernstein gave an eloquent response to this unspeakable tragedy. "This will be our reply to violence: to make music more intensely, more beautifully, more devotedly than ever before"—the inspiration for Lucas Richman's work and our musical reply to the senseless carnage in the Oregon District on August 4, 2019. The Dayton Philharmonic Orchestra Chorus joins the Orchestra in this moving work.
When Neal begins the second half of our concert with An Alpine Symphony, you'll immediately notice that the Schuster stage is crowded! Nearly 100 musicians on (and some off-) stage playing not just "regulation" instruments, but also wind and thunder machines, cow bells, and bird calls in Strauss's orchestral extravaganza. In this 24-hour hike up and down a Bavarian mountain, listen for a brilliant sunrise, the arduous ascent, a mountain pasture, a ferocious storm, a glacier, a beautiful sunset, and more. Supertitles will be your GPS on this musical journey!